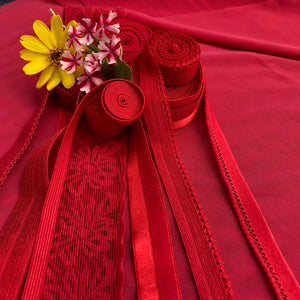 Our Kits take the guesswork out of lingerie building by putting together everything you'll need to make beautiful lingerie using your own pattern. If you need a pattern, we have a great selection on our Patterns Page, both paper and downloadable.
You will love our stretch mesh for panties! It's light, airy, breathable and super soft. It has a beautiful 4-way stretch and perfect recovery. It can be dyed to all of our colors, including all of our special colors. 

You can pair your stretch mesh with any of our panty elastics and narrow laces. The Wide Daisy Elastic is a great waistband and helps avoid that dreaded muffin top. Our panty picots are soft and a breeze to apply. Our ultra-thin gives you stealth panties. The elastic is so thin that it disappears. The foldover elastics are great, and lots of patterns give great instructions for applying them. I especially like the fancy foldover. The plush is super soft and the fold line in the middle makes applying it easy peasy. You'll also find lots of instructions out there for using stretch lace on your panties, and it makes such a pretty look! Use the Wide Daisy Elastic like stretch lace, or ask for one of our narrow laces. Finally, choose our 1/4" non-picot elastic for an enclosed elastic option. It works great!
It's tricky to figure out just how much fabric to include for a panty kit. Panties and bottoms are so very different! Some itty bitty bottoms want a tiny little panty. Some voluptuous bottoms want a high-waisted full coverage. It can also go in reverse -- high waisted full coverage on a tiny bottom and a super sexy little panty on a full bottom. Some women want a few pairs of panties to go with their bra. What is a gal like me to do???
My solution is to offer a range of cuts so that you can get the panties you want! I offer 4 different cuts of fabric -- a Quarter, a Quarter+, a Half, and a Half+. The Quarter is a fat quarter of fabric, 18" x 29". The Quarter+ is a fat 3/8 yard of fabric, 27" x 29". The Half is a half yard of fabric, and the Half+ is 3/4 yard of fabric. 
Most panty kits offer 1 yard of elastic or lace for the waistband and 1 1/2 yards of elastic or lace for the leg openings. This is our standard offering. You can also double or triple these yardages and they'll be cut as a single piece. This gives you the best utilization of your elastics.
Please drop me an email if this is all too confusing. I'm happy to help you figure out what you need. For reference, a hipster panty size XL needs a Quarter+. A XXXL panty in a full brief requires a Half+.