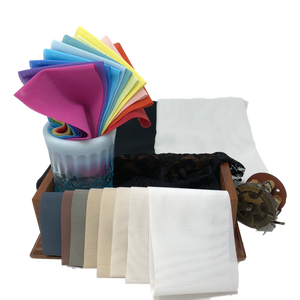 When ordering our fabrics in quantities over 1 yard, please note that any fabrics that require dyeing will not come as continuous yardage. Because of the limitations of our custom hand dyeing process, your order will be split into the appropriate number of lengths not greater than one yard. (e.g., 2-1/2 yards will be 2 - one yard pieces and 1 - half yard piece)
Firm weight power net is terrific when you want a supportive bra. This power net has a nice, firm body in addition to a firm support with 50% stretch.  Use power net on your bra band and for shape wear, although I'd suggest regular weight power net for most shape wear. Power net is breathable due to the small holes in the fabric. Use this fabric for your band and cover it with any other knit fabric that stretches the same amount or more for a fun or coordinated look. Firm Power net doesn't ravel and is firm and supportive. It's available in a full range of colors.  We only carry one product for black Firm Weight Power Net, which is the Stabilized Firm Weight.
Firm power net, like all our fabrics, is sold by the half-yard, and is 47" wide. It is also sold by the kit cut of 15" x 27".
Nylon/Spandex, 220 gsm