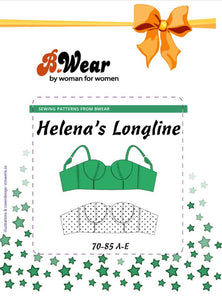 You are going to love these new bra patterns by B,Wear of Sweden!
Helena's Longline features lovely vertically seamed cups for easy alterations and a beautiful shape. Make yours with straps or strapless. There are so many reasons to try a longline- shaping, additional support, and the option of a stable strapless. Longlines are great beyond special occasions!
Helena's Longline Bra is sized in centimeters. Please use the chart below to help you choose your size. Underbust is measured snuggly, beneath the breasts, where a bra band is worn.
| | |
| --- | --- |
| Pattern size 70-85 A-E | Fits underbust measurement of 26.5"-34" |
B,Wear patterns are designed for a larger bust. Their cup sizing is unique, so be sure to compare your measurements to their sizing range. To determine your B,Wear cup size, measure around the fullest part of your bust while wearing a bra. The tape measure should be just snug enough not to slip down. The difference between your full bust measurement and your underbust measurement determines your cup size. This pattern will fit a difference of 4" to 8 7/8".