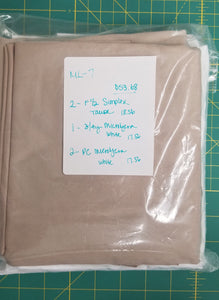 Everyone loves a sale! We have gone through our workroom and found all sorts of goodies that didn't quite meet the mark, and we have put them together for you. We have listed each kit with exactly what is included.
This kit contains :
(2) Fat 1/2 yd Simplex Taupe
3/4 yd Microlycra White
(2) Pantycuts Microlycra White 
 Please note that because of the nature of our hand-dyeing process and because all of these items may not be from the same dye batch, there may be some irregularities of color.